Horizontal Surface Grinding Machine Manufacturer and Supplier in India - Prayosha Enterprise.
Prayosha Enterprise is one of the prominent manufacturers of Horizontal Surface Grinding in India. It utilizes the edge of the grinding wheel over the even outside of the occupation to produce essential finishing. This sort of outside grinding is dynamic where high fastidiousness is mandatory. It can be utilized on level outsides as well as on tapers, angled surfaces, slots, and recessed surfaces too. Its Spindle Motor works with the finest speed in addition to high accuracy therefore it provides results. The magnetic chuck is produced and altered in such a way, to the point that, while working it uproots the dust and in addition trash things created out of the suitable mass.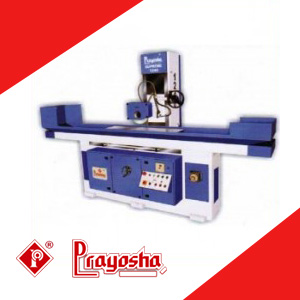 At the point when the job is finished, the system quits working mechanically. Our machinery is made heartily as they are done from top quality fundamental materials utilizing the cutting edge innovation open in this way. This machine is comprehensible, gives extremely extraordinary execution, and requires unimportant maintenance.
Supreme quality raw materials that are used in the manufacturing process of this grinder have been acquired from certified dealers of the market. To ensure their successful functioning and user-friendly operations, this Horizontal Surface Grinding is checked by our team of efficient quality analyzers. This grinding machine is customized and available at our production unit in various sizes, and dimensions. Our respected clients can avail this product from us at market leading prices.