With the precious assistance of a trained and experienced team of professionals, we are presenting an extensive range of Surface Grinding Machine that is used to produce a smooth finish on flat surfaces. It is a usually used rasping machining development in which a spiraling swing covered in rough particles cuts damage of metallic or nonmetallic stuffs from a workpiece, making a face of it flat or smooth. We manufacture this grinder using latest technology provides maximum output in least amount of time. We offer different types of surface grinder machines such as Supreme Surface Grinders, Used Surface Grinders, Horizontal Surface Grinding, CNC Surface Grinding, Hydraulic Surface Grinders and many more types.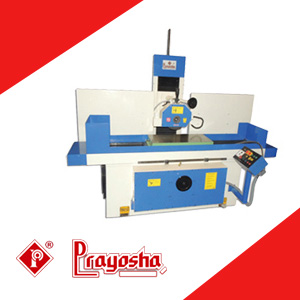 All these grinders are supplied to our clients after checking and analyzing them on pre-defined quality parameters under the stringent administration of our quality controllers to make sure that they are free from any fault. Moreover, our range is qualified for their flawless performance and quiet operations. Our range of Surface Grinding Machine is designed and manufactured with graded casting that helps to get rid of the internal stress and to give high inflexibility & stability for all kinds of grinding works.
Our manufactured range finds their application in many industries for various purposes due to the unmatched quality and unsurpassed performance. It is made under the supervision of our skilled professionals, using modern paraphernalia and machines in order to endow with highly efficient machine to our consumers.
Advantages Of Surface Grinding Machine:-
You can textures hard or grating materials
High level of dimensional precision
Produces surface textures of high wrap up
Tooling is less costly
Work holding is less demanding a direct result of attractive throw
Can be done naturally